INDUSTRIAL VISIT TO JNPT and NISM
Place of visit:
1. Jawaharlal Nehru Port Trust (JNPT), Nhava Sheva, Navi Mumbai
2. National Institute of Securities Markets (NISM), Patalganga, Navi Mumbai
Date of visit: 14th February 2019
Duration of visit: One day
Mode of transport: By Road
Coordinator: Dr. Rupendra Gaikwad
Accompanied by: Prof. Pranjal Jadhav
No. of students attended: 42
All expenses sponsored by: IMERT
Jawaharlal Nehru Port Trust (JNPT) is the most modern port of India. More than 43% of India's cargo is handled by JNPT. It is a profit making PSU of the Government of India. JNPT is the center of Import-Export business of India. Therefore, it becomes highly important to take PG students of MBA to visit JNPT.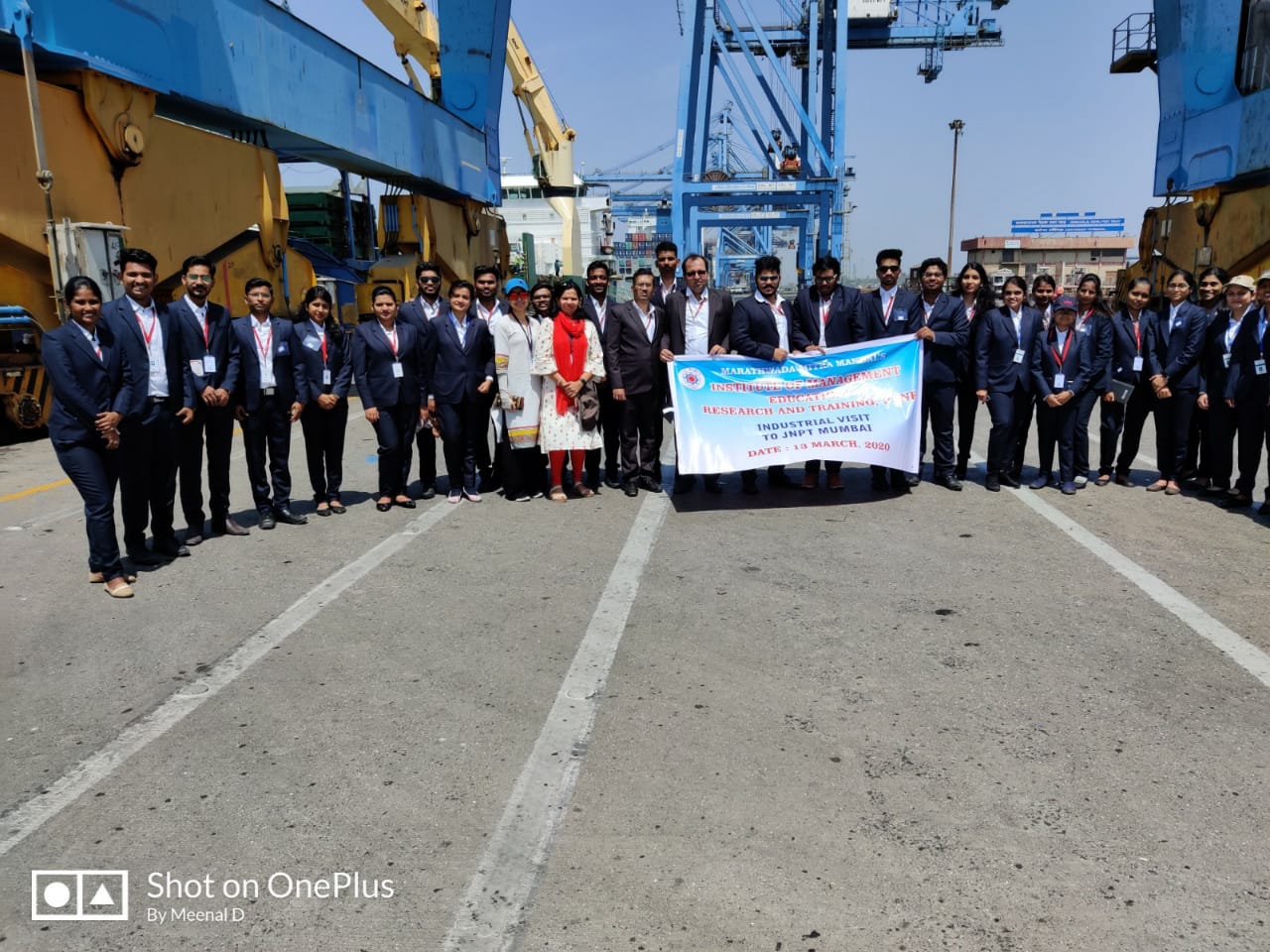 IMERT organized an industrial visit to JNPT on 14th February 2019. Total 42 students were selected for this visit. They were selected on the basis of their attendance. Entire visit was sponsored by the institute. There were 2 faculty members accompanied students, viz, Dr. Rupendra Gaikwad and Prof. Pranjal Jadhav.
We left the IMERT campus at 7.00 am on 14th February 2019 and reached JNPT at 10.30 am. All the arrangements were ready from JNPT officers. The visit began formally at 11.00 am by a presentation, which was delivered by Mr. R. R. Gaikwad, Dy. Manager, PP&D Department, JNPT. It was a very informative presentation with all statistical data related with business of JNPT. After presentation, a model of JNPT was shown to the students. Then we left administration office for visiting actual port/jetty along with Mr. Ravi Gharat, Marketing Department, JNPT. The students were amazed looking at giant ships parked at the jetty. All operations were live. Container handling was shown to the students. While observing these operations, Mr. Ravi Gharat was giving the information about ships, tug boats, containers, weight & goods inside of the containers, cranes and the business contributed by each ship. Mr. R. R. Gaikwad joined us again on the jetty. He informed our students about number of jetties, modernization of operations, privately operated jetties, etc. After this information on the jetty, we moved to container yard, refrigeration facility for the containers containing perishable goods, scanning of containers, rail transport of containers, gantry cranes, etc. Then we went to the canteen of JNPT for lunch.
All of the students received the information about formation of JNPT, its importance in the Indian economy, its contribution in the Indian business, its future plans, etc. and with smiling faces we left JNPT premises.
Then we visited National Institute of Securities Markets (NISM) on the way back from JNPT. The picturesque premises of NISM has been spread over 75 acres and is located in Patalganga industrial belt of Raigad District near Navi Mumbai.
Dr. Nitin Tike, Vice President, NISM delivered a very informative lecture on career opportunities available in securities market for MBA students. He began with the information about NISM and then involved students through his interaction irrespective of their specializations. He answered all the queries of students regarding this. In all, though tired, students were happy about the visit.
We left campus of NISM with utmost satisfaction.